Regular price
Sale price
Rs. 550.00
Unit price
per
Sale
Sold out
Get upto 20% off
Get Flat 10 % OFF on order above ₹999
Extra 10% OFF on prepaid orders
Description

UNISAIF's pigmentation cream helps in reducing melanin activity to provide even complexion. Use of mulberry extract reduces appearance of dark spots and blemishes. Vitamin c with glycerin aids in enhancing natural collagen production and healthy glow of your skin. Presence of citrus compounds help in reducing aging signs, discoloration and hyperpigmentation of your face. Its active ingredients allow double protection that helps your face remain clean, balanced and comfortable.

Benefits-

Removes darkness and pigmentation.

Controls excessive melanin production.
Manages even tone of your skin.
Promotes glowness and shine to your face.
Helps in building an Effortless skin.


Direction of use-

Gently Apply over face, rub it smootly in a gliding manner until absorbed uniformly.
Apply morning and evening for better results.
Discontinue if irritation occurs.

Â
X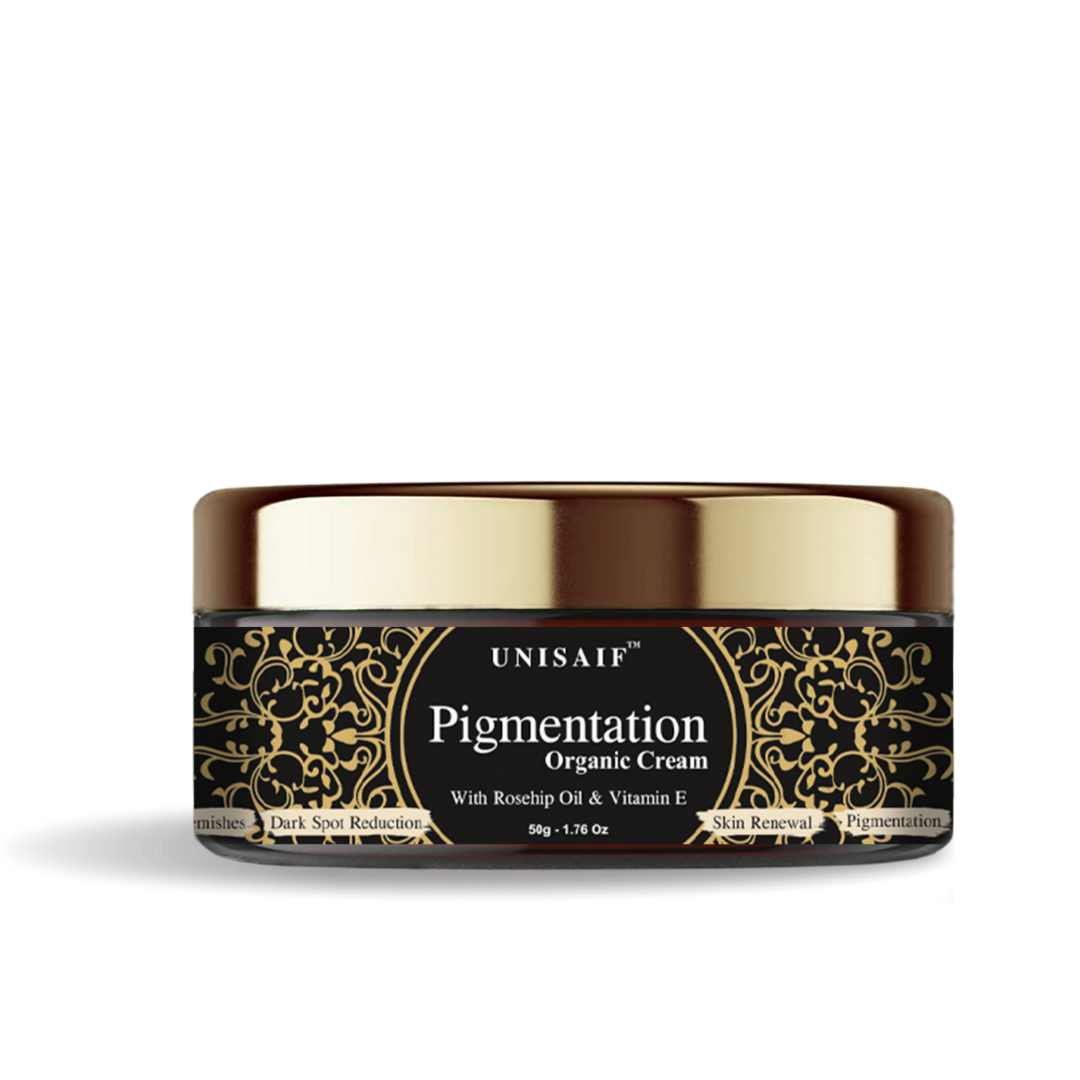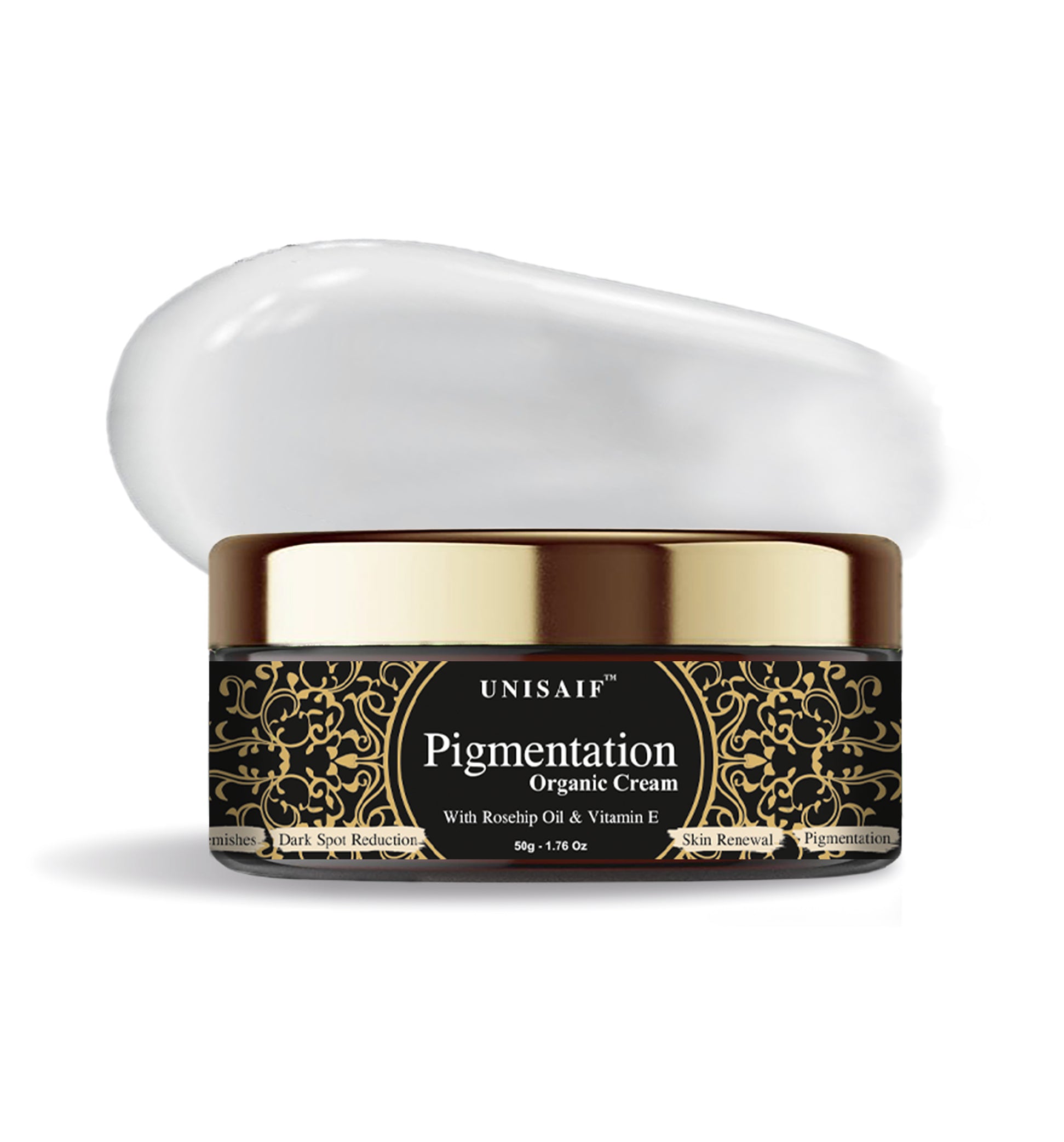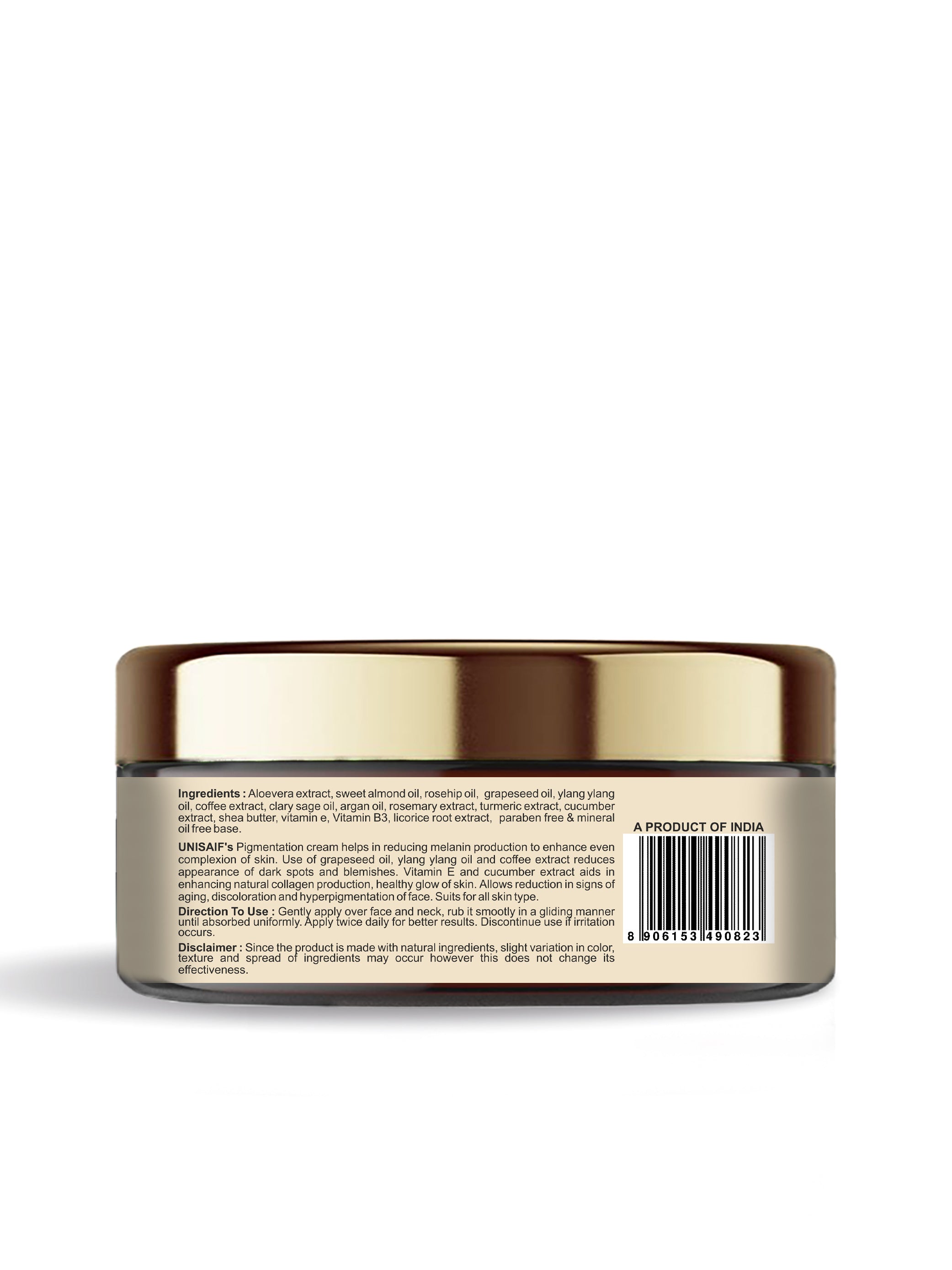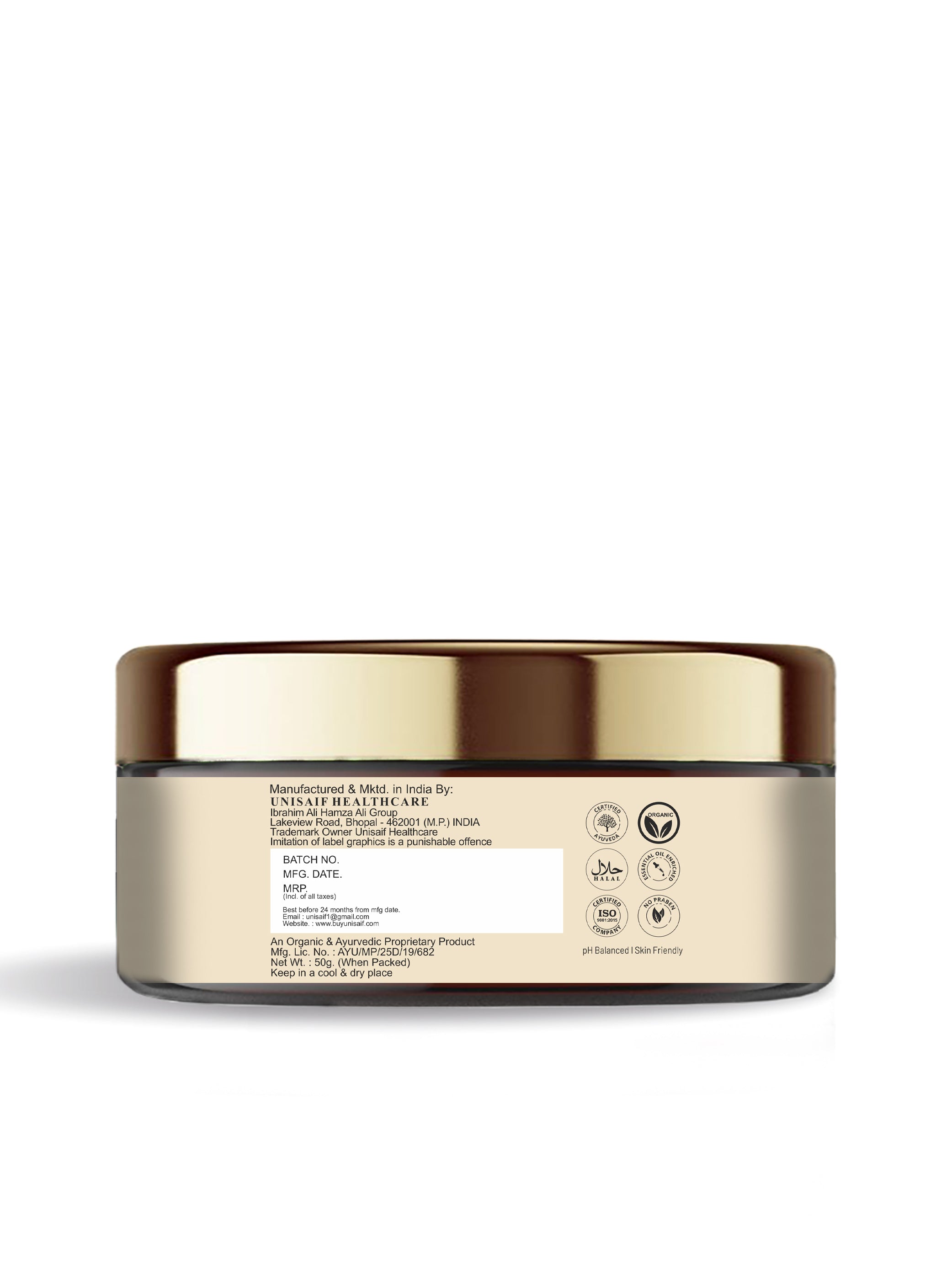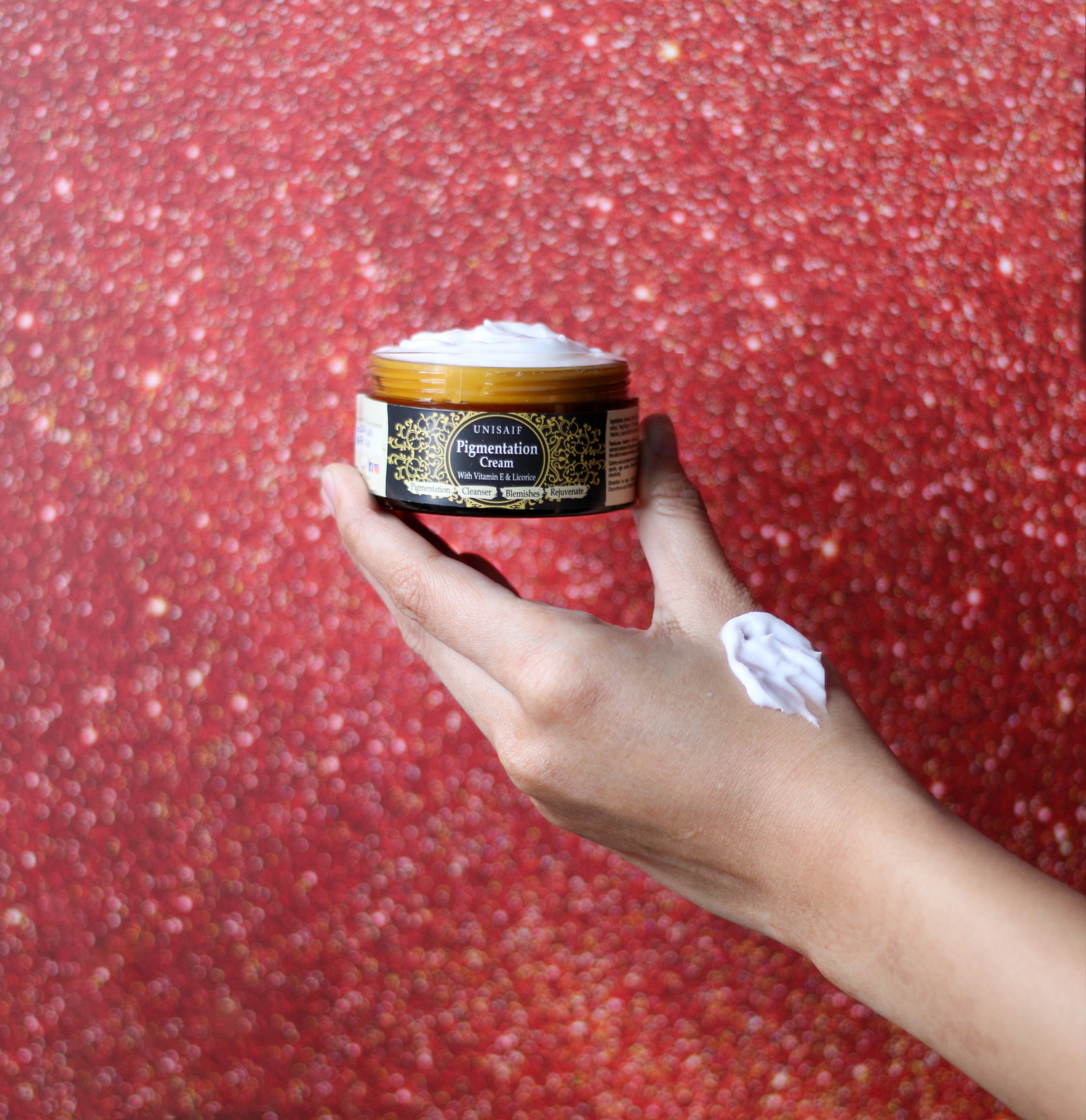 View full details
key ingredients

Aloevera extract, sweet almond oil, rosehip oil, grapeseed oil, ylang ylang oil, coffee extract, clary sage oil, argan oil, rosemary extract, turmeric extract, cucumber extract, shea butter, vitamin e, Vitamin B3, licorice root extract, paraben free & mineral oil free base
How to use

Gently apply over face, body and neck, rub it smootly in a gliding manner until absorbed uniformly. Apply twice daily for better results. Discontinue if irritation occurs.
Frequently Asked Questions

Is Unisaif Pigmentation cream suitable for all skin type?

Our Pigmentation cream is made of organic natural ingredients and thus is completely safe to be used by all skin types.

Does Unisaif Pigmentation cream helps in reducing pigmentation/blemish?

Unisaif Pigmentation cream contains mulberry extract, rosehip oil, vitamin E that allows clearing of dark spots/ blemishes/ pigmentation, giving you even toned and textured skin.

Can I use Unisaif Pigmentation cream daily?

Yes, our Pigmentation cream can be used daily at any hour during AM/PM without any problem.

Is Unisaif Pigmentation cream 100% chemical free?

Our Pigmentation cream is completely made up of natural plant based ingredients, hence is free from any chemicals, paraben, sulphate, & mineral oil.

What are the benefits of using Unisaif Pigmentation cream?

Unisaif Pigmentation cream controls excessive melanin production, promotes glow & shine to face, reduces blemish & pigmentation naturally in a longer run.

Are all the ingredients of Unisaif Pigmentation cream natural?

Unisaif Pigmentation cream consist of natural ingredients like rosehip oil, grapeseed oil, ylang ylang oil, mulberry extract, coffee extract, clarysage oil, rosemary extract which are potent enough to benefit your skin at the maximum level.
really like it
felt good results near face area , like the product